Company values – the backbone on which many businesses build their success. If a company truly lives by these, they can provide a guiding hand in complex decisions, and shape behaviour in the every-day life of the company. However, if addressed vaguely, company values can easily miss the point, and become shallow business talk which no-one takes seriously. Jaguar Landrover Slovakia aims to avoid this happening. When faced with the challenge of introducing these values to more than 2000 employees at their newly opened plant in Slovakia, they knew it had to be done in a smart and innovative way – which is why they reached out to us. This is what happened:
Starting point
First, we needed to get a more in depth understanding of what the company stands for, by looking at what their values really mean. This meant looking at their values in the context of day to day routine at Jaguar Landrover's plant – how they manifest from assembly line to top management. We conducted several workshops with different stakeholders to understand their take on these values, as well as what the perceived challenges are when it comes to communicating and living by them. Our goal was to understand, not only what these values stand for in real life, but when and where these values actually materialise.
Secondly, we had to understand when the ideal time would be to introduce and explain these values – so they won't be overlooked by busy employees.
After gaining a deeper insight into the onboarding process of the plant, things started to take shape. We had to create an offline activity that would bring people together, and would be a safe space where employees could experience the impact of these values and connect them with their day to day practice.
Gamified solution
The final outcome is a cooperative game, which can be explained and played within 20 minutes.
The game is simple. You play as a team who is trying to, as in real life, produce excellent cars without any defects or injuries. And as in real life, what can go wrong often does go wrong – even in the well equipped and safety oriented modern automotive plant. So, in this game, players are coming across obstacles and experiencing mishaps that actually happen during their workday. When moving forward on the board (which represents the assembly line), the player has to take a special obstacle card, which describes what kind of mishap takes place. While one player experiences the challenge described on the card, the others are holding different sets of cards which can possibly solve this problem. Players offer their solution cards and the affected player chooses their favourite one. By placing the obstacle and solution card next to each other, they create a compelling story and point out how obstacles like these can be solved by different employee behaviours.
And how do the company values fit in?
In the Jaguar Landrover's internal communication, each value is represented by a specific symbol. We have placed these symbols on the cards, so the players can easily connect which values can prevent specific obstacles and what happens if we lack some of the values in our workspace.
By connecting values with real-life situations, we've switched the learning process from memorising abstract concepts to assigning values to concrete behavioural patterns, that most employees can identify with.
In the end, players understand that living by these values is something that they can naturally do, and that it isn't difficult at all to express these values in the workplace. Plus, they can see how the values directly shape the culture and workplace around them.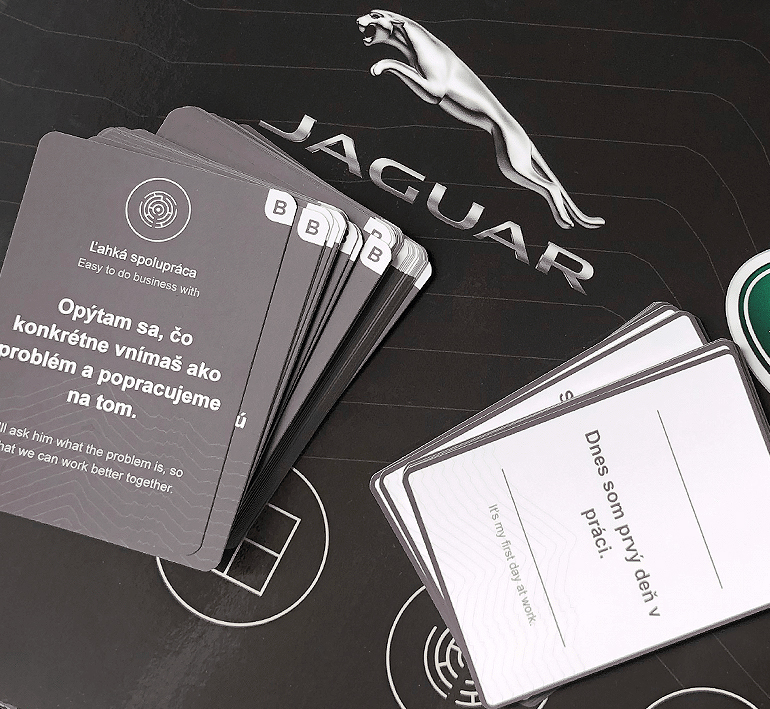 Several layers of learning hidden in a simple board game
As simple as this game might look, it consists of several layers of information that players can learn. It teaches everything from the simple recognition of values, understanding of challenges in their workplace, through to icebreaking and building a sense of team and community. The game also helps in the building of self-esteem and developing the courage to be proactive in the workplace. With help from mentors and trainers, it can be even used as a reflection and development exercise for teams.
Main tools we used
Cooperation by design

Players in the game are trying to achieve a common goal. And to accomplish the game's objective, they must learn to support each other.

Simplified, on the spot simulation

By setting the game in the real environment of the automotive plant, players can easily transfer the game experience into the context of the real world.

Offering quick and frequent wins

Beside the game's main goal, players don't have to wait for the grand finale to experience a sense of victory. Instead, the game offers frequent sparks of small victories each round, which keep players engaged and increase their sense of control throughout the gameplay.
Results
The game became an organic part of the onboarding process

Increased recognition of company values

Employees can better assign their own behaviours to company values